→

About Us

Paper Recovery of Georgia, Inc. is a family-owned business with over 55 years of experience in recycling and document handling. We are a fully insured and bonded document destruction company and strive to provide the ultimate level of security and service to our customers to guarantee that your confidential documents are disposed of properly.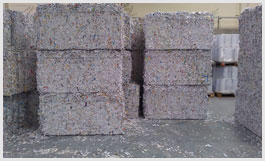 Independent...Our unique size, combined with our caring staff and experience, provides the fast and flexible services you require.
We'll provide you with a free waste audit to assess your current waste and recycling services to help you institute a program that saves you time and money, while being environmentally conscious.
The company maintains brokerage offices in Georgia and Ohio, with a processing facility in Rome, GA and an affiliate processing facility in Northlake, IL.
Paper Recovery of Georgia, Inc.'s fleet of over 90 trailers and tractors provides dedicated trucking and the processing plants can operate up to 7 days a week to ensure our clients receive prompt and timely service.
Secure document destruction
Waste audits
Recycling of many materials
Direct mill shipments worldwide
Financing of recycling destruction equipment
Supplier of compactors
Suppliers of open tops